Marketplaces consisting of WordPress plugins and themes are highly popular because of the simplicity and easy-to-use function of WordPress CMS. These marketplaces contain plugins and themes developed by freelance developers and companies. Literary any person with basic internet and website knowledge can create websites on WordPress CMS using the plugins and themes from these marketplaces. There are thousands of themes and plugins available for users to create eye-catching and interactive websites in hours.
The themes and plugins can be free, freemium, or premium. Some of these plugins and themes are completely free to use while some will cost you money. Also, the free plugins might have premium add-ons or extra features available on their premium packages. Usually, the free plugins and themes have limited support options which are good for basic usage but not sufficient for business owners and advanced users. On the other hand premium plugins and themes provides extensive support which is really great to worry less about any type of issue and save more time.
Today we are going to introduce you to the following marketplaces where you get eye-catching themes and plugins to power up your WordPress website –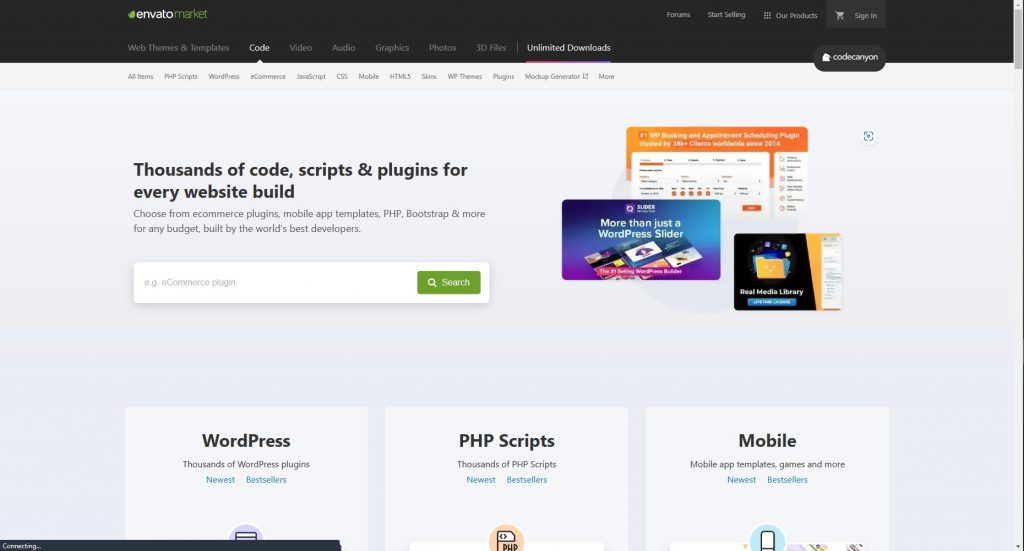 1. CodeCanyon
CodeCanyon is an online platform popular for creative assets and digital products. This marketplace has various types of items including plugins, PHP Scripts, Javascript assets, CSS assets, HTML5 templates, WordPress themes, skins, etc. These assets can be used in websites, mobile apps, presentations, and more.
Envato Market is a leading digital ecosystem that provides resources and services to power the online world. This marketplace has millions of users around the world and is also popular for premium WordPress plugins.
You can browse and purchase almost all types of WordPress plugins in this marketplace. This platform offers a user-friendly interface and advanced search tools to help you find the perfect plugin for your WordPress website. You can also use the demo and see live previews of the plugins before purchasing to make sure they meet your requirements.
Envato marketplace allows developers and companies to earn money by creating and selling their own digital products. The platform provides great resources and support to help developers, designers, and companies to get started and succeed in the marketplace.
This marketplace also provides a secure payment system and customer support to ensure a seamless buying experience for its users. The platform also offers a referral program that rewards its users for referring new customers to Envato Market.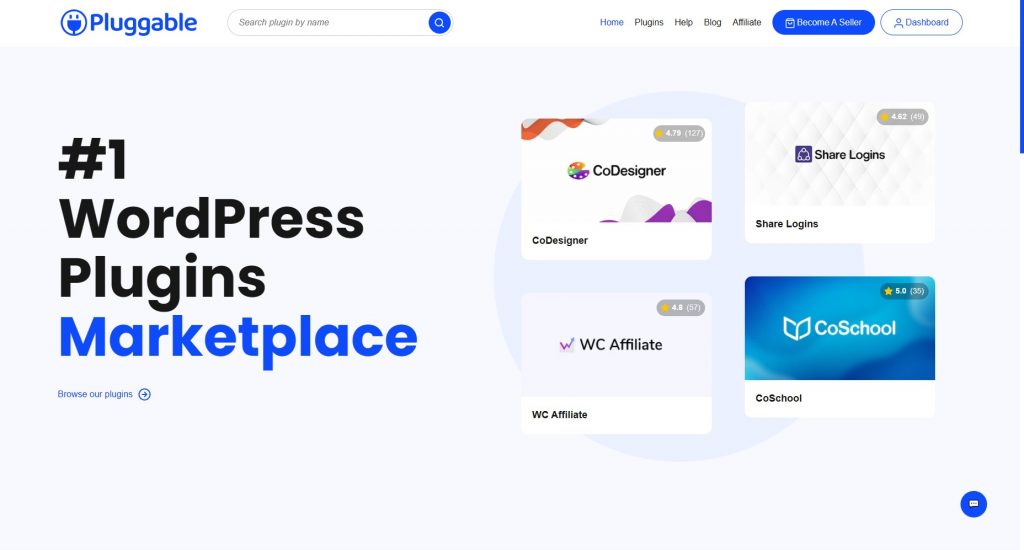 2. Pluggable
Pluggable is the internet's first online marketplace dedicated to buying and selling WordPress plugins. This online marketplace hosts and promotes WordPress plugins developed by creative developers. This marketplace also helps individual developers to promote their amazing tools and to target audiences who are looking for innovative plugins for their WordPress websites.
If you are looking for bug-free and useful WordPress plugins then Pluggable is the best place for you to get them. You will find all types of great plugins in the plugin directory of the Pluggable plugin marketplace.
Pluggable has also lessened the struggles of new and seasoned developers with the marketing of their plugins. Those who are in hesitation about how to market their great WordPress plugins can get relieved by submitting their plugins on Pluggable.
This marketplace will help you to market your product through various marketing channels and techniques. The most interesting thing about this marketplace is that it lets the developers keep up to 93% commission from each sale of their plugin. Which is the highest commission-sharing rate in the industry. The joining process is pretty straightforward on the Pluggable marketplace. You can choose the services you want and easily join to submit your plugin using this link.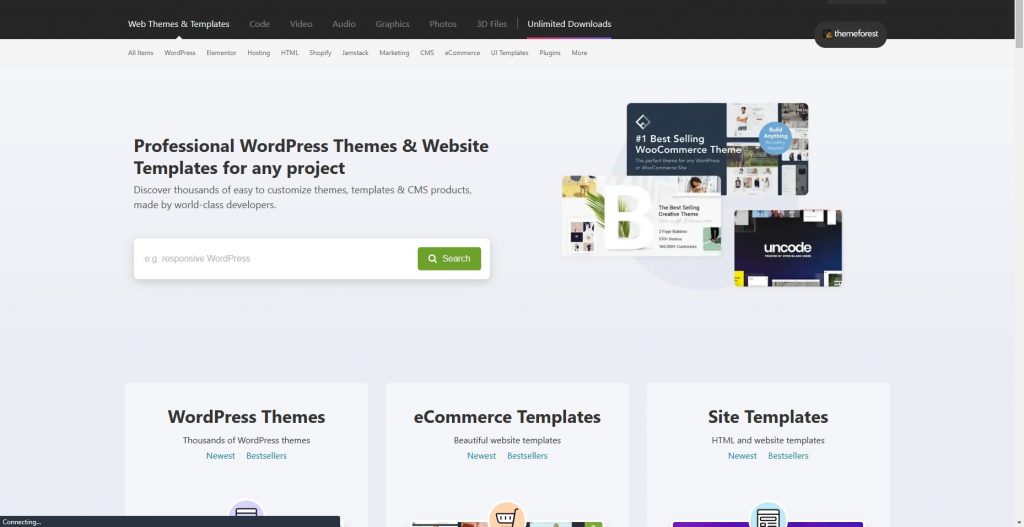 3. ThemeForest
ThemeForest is the largest theme marketplace with eye-catching themes and web design elements for all types of businesses. You will find various types of themes for WordPress, Elementor, Shopify, Jamstack, and other CMS platforms.
This marketplace has highly interactive HTML templates, email templates, and more. The templates on ThemeForest are created by a global community of designers and developers, and they are rigorously reviewed by the ThemeForest team to ensure quality and compatibility with the latest web standards.
Themes and templates found on ThemeForest come in a variety of styles, including clean and modern designs, retro and vintage styles, and more. They are available at a range of price points. This makes it easy for designers and developers to find what they need.
ThemeForest is a great resource for anyone who works with web design and development. With a vast selection of high-quality templates, themes, and design assets, designers and developers can create stunning, functional websites without much hassle. You can also submit your own templates and designs on ThemeForest using the sign-up link. Although it's a huge marketplace the commission rate is really low – only 30%.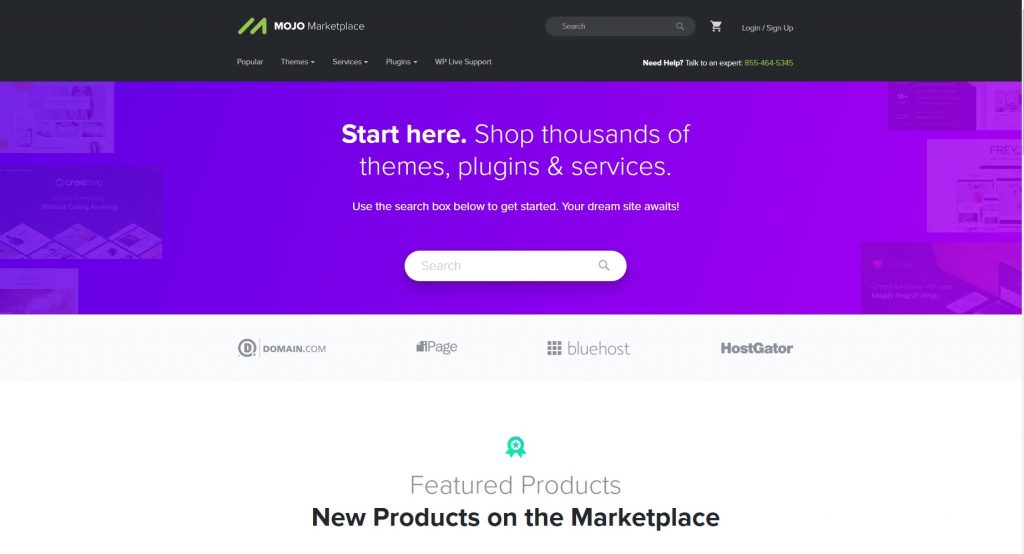 4. MOJO marketplace
MOJO Marketplace also consists of WordPress themes, plugins, graphics, and website templates. Designers, developers, and creative professionals can sell their products and services on this marketplace. With comprehensive solutions for website owners and developers, MOJO Marketplace helps you grow your online presence.
MOJO Marketplace has a large community of website owners and developers where your product can get better exposure. It also has a partnership with a popular hosting provider company – HostGator. For this reason, many WordPress users will get your themes and plugins t when they host and create their site on HostGator.
Mojo Marketplace offers 50%-70% commission for exclusive authors and 50% of commission for non-exclusive authors. You can sign up on their website and follow some easy steps to start selling on MOJO Marketplace.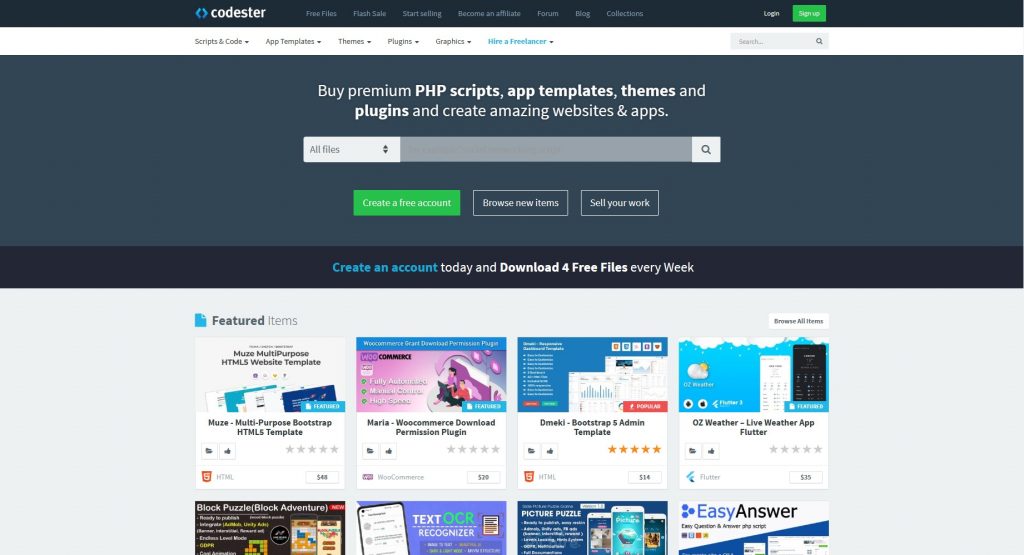 5. Codester
Like the marketplaces mentioned above Codester is another great option to buy and sell WordPress themes & plugins. This marketplace has a flat commission rate of 70% for both beginners and experts. You can showcase your work and reach a large community of potential customers via Codester.
Codester hosts all types of scripts, apps, and graphics. This also includes scripts for popular programming languages such as PHP, Python, and Ruby, as well as themes and plugins for popular content management systems like WordPress, Shopify, and Magento. The platform also offers a selection of graphics and design elements, including icons, templates, and stock images.
One of the key features of Codester is its user-friendly interface, which makes it easy for buyers to search for, preview, and purchase products. The platform also provides detailed product descriptions, reviews, and ratings to help buyers make informed decisions.
Along with selling products, Codester also offers a range of services such as custom development and support. The platform provides a simple and efficient way for buyers to connect with developers and get their projects completed on time and within budget.
Last words
The WordPress plugin and theme marketplaces offer a wealth of options for users looking to enhance their website's functionality and design. With the right tools and resources, anyone can create a website that stands out and meets their unique needs. Whether you're looking for a simple solution or a comprehensive one, these top WordPress marketplace has something for everyone. So explore your options, try out different plugins and themes from different marketplaces, and don't be afraid to experiment until you find the perfect fit for your website.